Laser hair removal SERVICES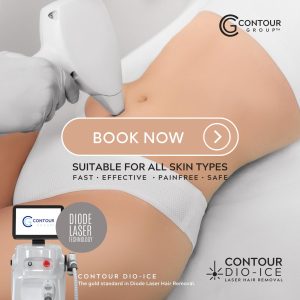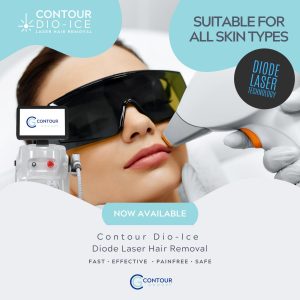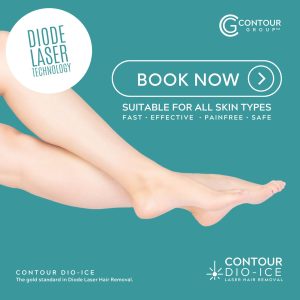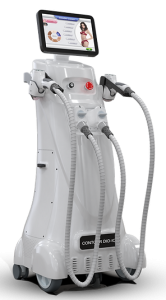 At North Herts Laser Clinic we use the Contour Dio-Ice™ laser.  It is considered the gold standard of hair-removal lasers as it can be used to treat all skin types effectively and with the fewest number of treatments.
The laser emits near-infrared laser light that is absorbed by the melanin located in the hair follicle. The laser is pulsed for only a fraction of a second. The duration of each pulse is long enough to damage the follicle, without damaging the surrounding tissue.
The Dio-Ice's triple wavelength technology allows for the treatment of all different skin types.
755 Alexandrite is perfect for light coloured skin and fair hair.

808 Diode is the classic wavelength used by most Laser Hair removal units and is suitable for most skin and hair types.

1064 ND Yag is used to treat darker and/or tanned skin tones that have lower melanin absorption.
It offers the ability to treat large areas fast with high efficacy and comfort. 6 sessions minimum (4-7 weeks apart) are required in order to completely remove hair, with just a few touch-ups that may be required over time. Some patients report no further hair growth after only 6 sessions. Lighter hair types or particularly dense, coarse hair types may require 8-12 sessions.
Contact us to book your consultation and patch test – the consultation cost of £25 is refundable against your first laser treatment.
| | |
| --- | --- |
| laser Services | Prices |
| Initial Consultation & Test | |
| Consultation & Test | £25.00 |
| Face and Neck | |
| Chin | £35.00 |
| Ear Lobes | £35.00 |
| Face Full | £100.00 |
| Face Sides | £60.00 |
| Mid Brows | £20.00 |
| Neck Front | £60.00 |
| Nose | £20.00 |
| Upper Lip | £35.00 |
| Upper Lip & Chin | £50.00 |
| Body | |
| Breasts | £40.00 |
| Fingers | £30.00 |
| Arms & Hands | £150.00 |
| Half Arms | £80.00 |
| Hands | £50.00 |
| Stomach | £95.00 |
| Underarms | £50.00 |
| Tummy Line | £50.00 |
| Legs | |
| Upper Legs | £90.00 |
| Lower Legs | £90.00 |
| Full Legs | £170.00 |
| Feet and Toes | £55.00 |
| Bikini | |
| Standard Bikini | £50.00 |
| Brazillian | £80.00 |
| Hollywood | £80.00 |
| Bikini Line Tidy | £40.00 |
| Men | |
| Chest | £80.00 |
| Back and Shoulders | £180.00 |
| Full Back | £160.00 |